RPS 600S 6 Stage Electronic Air Purifier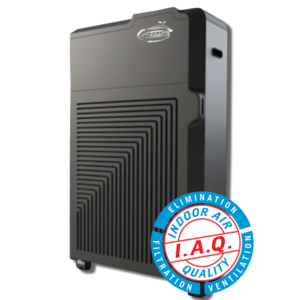 It's Like Hand Sanitizer For Your Indoor Air!
Our RPS 600S is a medical grade system that is one of the most advanced air purifiers on the market. With 6 stages of filtration and a large capacity air flow, it includes a washable pre-filter and a 2-stage electrostatic precipitator and can exchange the air in a 2000 square foot home 40x per day!
This model is portable, so it's not mounted to your ductwork. Therefore, you can plug it in wherever it's needed most!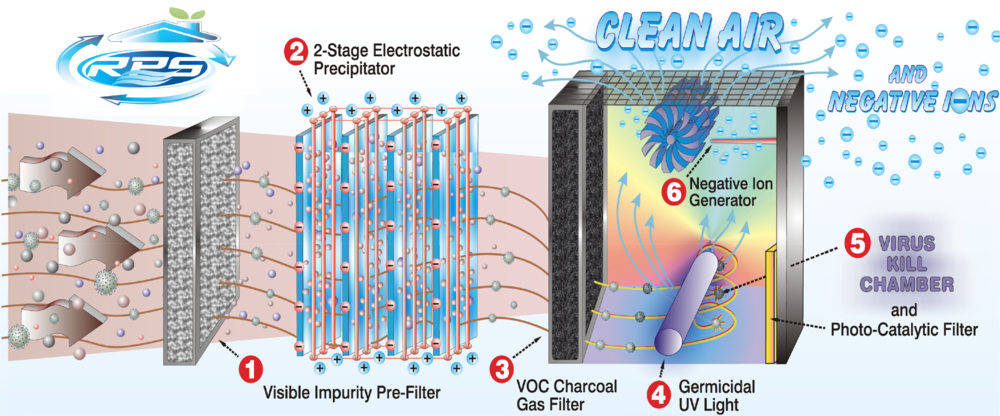 Stage 1: The washable, anti-bacterial pre-filter traps large dust and particles such as hair and animal dander.
Stage 2: The washable 2-stage electrostatic precipitator captures airborne particles, such as allergens, dust mites and micro-pollutants. The microscopic particles then become electrically charged as they pass through the powerful electric field.
Stage 3: The Volatile Organic Compound (VOC) or activated carbon filter absorbs and reduces odors, chemicals, gases, reduces tobacco smoke and other odors.
Stage 4: Dual UVC sterilization chamber kills bacteria, viruses, and viral microorganisms such as the flu, TB and Legionnaire's disease.
Stage 5: The UV light is reflected throughout the chamber, coming in contact with the photo-catalytic filter. This combination quickly and efficiently oxidizes household contaminants into simple water vapor and carbon dioxide.
Stage 6: The Negative Ion Generator helps make the air feel cleaner and purer. Negative ions are shown to promote better sleep, improve energy levels and focus, combat fatigue, reduce headaches and sicknesses among many other beneficial factors.
RPS 600S 6 Stage Electronic Air Purifier
H 83.5 cm x W 47.8 cm x D 23.8 cm
Viruses
German measles, Influenza (Flu), Cold, ChickenPox, Pneumonia, Mumps
Bacteria
Whooping cough, Bronchitis, Meningitis, Tuberculosis (TB), Strep Throat
Chemical Pollutants
Carbon Dioxide, Formaldehyde, Lead, Asbestos, VOC, Cigarette Smoke
Material Pollutants
Mold, Mildew, Fungi, House Dust Mites, Pollen, Spores, Dust, Dander, Hair, Lint