RPS Central Photo Catalyst UV System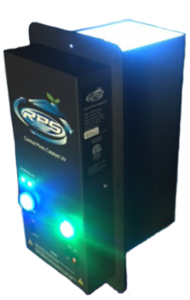 The Future is UV!
Our Central Photo Catalyst UV System is unlike any other home purifying system! UV light disinfection is widely used in hospitals, laboratories, and the food industry to sterilize and prevent the spread of disease without the use of harsh chemicals.
Mounted to your ducts at the air intake, the RPS UV utilizes 2 germicidal ultraviolet lamps. As indoor air pollutants, bacteria and viruses get drawn into the photo-catalytic reactor grid and passes through the system, the UV light illuminates and super-activates the grid, oxidizing airborne household contaminants into simple water vapor and carbon dioxide. What you are left with is fresh air that your entire family will benefit from.